Buying a used boat can save you quite a bit of money over the cost of a new one, but such a purchase comes with additional things to think about. You can never be completely sure how well the previous owner took care of the boat you are considering, but if you know what to look for when buying a used boat, you can increase your chances of buying a vessel that meets your needs and will not require a lot of repairs.
General Items to Check Before Buying a Used Boat
There are some things to examine that apply across all types of boats. For example, every used watercraft has a hull that should be inspected for visible defects, holes, and gouges that could compromise the seaworthiness of the vessel. As your safety and that of your passengers depend on the structural soundness of the hull, you want to make sure that any used boat you choose has a sound hull without a large number of visible repairs.
Another thing to look at regardless of the type of used boat under consideration is the condition of the deck. You do not want to see signs of significant decay, rot, rust, bubbles, or damage as that could compromise the safety of the boat when it's on the water. The deck should also be sturdy, without any soft spots. Deck areas that have excessive movement when you step on them or press down with your hands can indicate hidden damage.
The single most expensive item on most boats is the engine, and buying a used boat with a bad engine can quickly escalate the cost of your purchase with repairs. With any used boat engine, you should not see deteriorating belts and hoses, corrosion beneath the cover of the engine, metal dust, or grit in the engine oil. Any of these could indicate a looming problem with the engine. It is also important to see how the engine runs, so you should ask the seller to start it up before you commit to purchasing it. Noisy, smoky, and rough running engines should be excluded from consideration.
Considerations for Specific Types of Used Boats
It is also important to know what to look for when buying a used boat of a specific style. There are many differences between various types of boats, with some having features that are not found on others.
What to look for when buying a pontoon boat
One of the most common issues on a used pontoon boat is damaged seats and cushions. You should also check that there are no visible signs of damage or corrosion on the shift and throttle linkages and springs. During the test drive, make sure the pontoon boat handles acceleration, slowing down, and turning well. Glance at the gauges to see if the reading and dials are accurate and whether any oil pressure problems are detected. The test drive should last at least 30 minutes so that you can see if there are any overheating problems with the engine.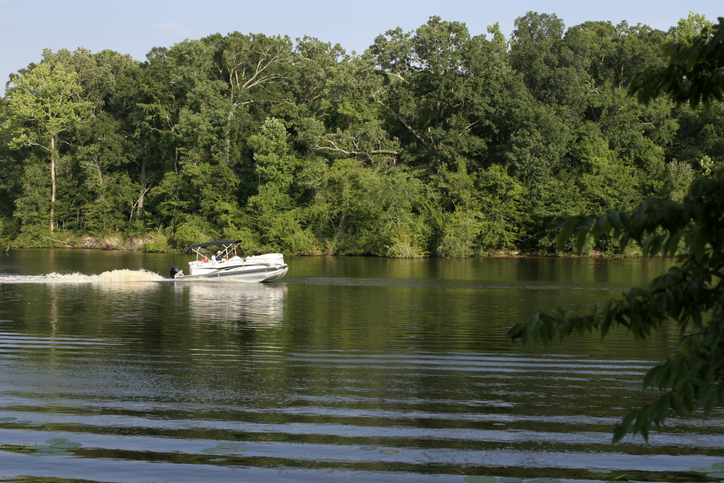 What to look for when buying an aluminum boat
The most important things to look for when buying a used aluminum boat are cracks and corrosion. Aluminum boats can be prone to cracking as they age and can corrode more quickly if they are frequently used in salt water. Corrosion on aluminum boats is usually gray or white with a chalky consistency. Licensed boat dealers that sell used aluminum boats carefully inspect the boats they buy for structural defects in the hull, sides, and mounting areas and will not accept them if they find significant issues. It is also important to take a look at the steering system for the boat, as that can be expensive to replace. You should not see worn cables, damage to the mounting areas, or looseness with the outboard engine. Check the propeller for damage or bending, which could indicate an impact in the past that may have resulted in internal issues or gear damage.
What to look for when buying a bass boat
Bass boats are some of the most popular boats on the market today. The boat can look great, but there can be subtle signs of poor maintenance that you should examine. For example, if the material on the seats is in poor condition, it may be an indication that the previous owner stored it outside, exposed to the elements, which could impact a number of features on the boat. Things to look for when buying a used boat for bass fishing include ensuring that all of the lights and switches work properly, that the prop shaft is not damaged or wobbly, and that the two zinc anodes on the boat — the one at the bottom of the engine mount and the one above the prop — are clean and intact. All the compartments should be opened and examined for signs of mildew or animal habitation, both of which could cause major problems down the road.
What to look for when buying a fiberglass boat
Fiberglass boats are another popular option with recreational boaters. Many small boats and other watercraft are composed of fiberglass because of its strength and ability to be fashioned into nearly any form, allowing boat manufacturers to create designs that are both strong and streamlined. However, there are some challenges with fiberglass boats that are not found in boats made of other materials. While fiberglass is very durable on its own, it can be drastically affected by outside elements, such as ultraviolet (UV) rays from the sun. Over time, UV rays cause fiberglass to become brittle and more prone to cracking. As most recreational boating tends to take place on sunny days, exposure to UV rays for long periods is common. Repetitive waves, engine vibrations, and impacts can also put stress on the fiberglass holding the boat together. Fortunately, used fiberglass boats sold by boat dealers are carefully inspected for structural integrity before they are offered for sale.
What to look for when buying an inboard/outboard boat
The most important thing to look at when buying an inboard/outboard boat is the condition of the motor. The motor should be given a thorough visual inspection along with the cowl, prop, and anodes. The motor should start easily and not drip fluid or expel smoke while running. The boat should be able to accelerate smoothly and run quietly during your test drive. You can also inspect the boat for leaks or other issues that need to be addressed at that time.
What to look for when buying a jon boat
One of the most common issues with used jon boats is leaking during operation. Any areas of repair and areas around the fixtures are the places where leaks typically occur, so these areas should be examined carefully. If the boat is made of fiberglass, it should be checked for cracks. If the boat is aluminum, it should be examined for signs of corrosion, often indicated by peeling paint or the appearance of a chalky substance. Any of these signs may indicate that the boat is reaching the end of its lifespan.
What to look for when buying a fishing boat
The term "fishing boat" encompasses many types of boats that are mainly used for fishing instead of recreational watersports like waterskiing or wake boarding. Whatever types of boat you're considering, they all should be examined for signs that they have been well taken care of during their lives. This includes examining the structure of the boat for significant damage, making a visual inspection of the motor and prop, and running the boat to make sure that everything works the way it should.
What to look for when buying a ski boat
Ample speed is needed when using a ski boat for watersports like water skiing and wakeboarding, so make sure that the used ski boats you are considering are up to the task. One common piece of advice for determining the overall condition of a used ski boat is to look closely at the carpet and upholstery. If these are in bad shape, it could indicate that the boat has not been well cared for. Another thing to look for is any weakness in the structure of the deck; this shows that the wood stringers used in its construction have been compromised.
What to look for when buying a jet boat
For many recreational boaters, the age of a used jet boat is the most important factor in deciding whether to buy it. If the used jet boat is more than 10 years old, it becomes difficult to find many of the parts that are used to repair the cosmetic areas of the boat. If the boat is more than 15 years old, critical items like parts for the engine or the pump may only be available as used options since the manufacturers will no longer be making them.
Buying a used boat through Rightboat's online marketplace is one of the best ways to ensure you are getting a high-quality used boat at a reasonable price. To learn more about used boats or see the boats we have to offer, search our listings today!
---
---
Related Articles and Guides