There are many different types of boats, and one of the keys to having fun with the entire family out on the water is choosing the right type for the aquatic activities everyone enjoys. You may have a spouse who's into fishing, one kid who's into watersports, another who enjoys swimming at the lake, and you yourself may have fun doing all of the above. Or, maybe everyone in the clan agrees that one specific activity or another is the best way to spend a day afloat. Either way, making sure you look at the best family boats for your needs goes a long way to making sure you ultimately pick out the right ride.
That's the good news. The bad news is that with so many boat brands out there, deciding which to check out can be an ordeal. Never fear, dear Rightboater—we're about to take a telling look at the brands building the best family boats for the budget, the best family ski boats, the best deck boats for families, and everything in-between.
Best Family Boat Brands for the Money
All families have a budget, and buying a boat can have a big impact on just how much money is left over for less important things like food and clothing for the kids. How will you know how much is too much? Only you can make that decision, but that said, these three brands build some of the best family boats for the budget.
Bayliner
Bayliner builds 20 different models from 15 to 24 feet including fishing boats, bowriders, and deck boats. They're relatively simple, straightforward boats built without gobs of accessories or luxury items, which keeps cost down. Yet they're also built to National Marine Manufacturer Association (NMMA) standards (a grade above basic Coast Guard regulations), and Bayliner regularly wins NMMA Customer Satisfaction Index Awards so you know they've put the care and effort in where it really counts.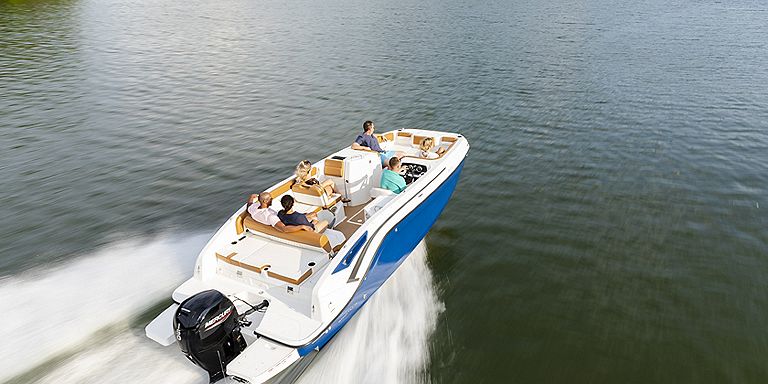 Photo credit: Bayliner
Lowe
Lowe boats are aluminum, which generally costs a bit less than fiberglass when it comes to relatively small boats, and they have a huge lineup ranging from fishing boats to pontoons. In fact, their two least expensive pontoon boats (the Ultra 180 and 160 Cruise) can be had for under the $20,000 mark — which is certainly a bargain for any boating budget. More importantly, even on these low-cost models you'll spot quality construction touches like fiberglass consoles, nine-foot aluminum-framed Bimini tops, and comfortable couch seating with stowage compartments underneath.
Photo credit: Lowe Boats
Tracker
Tracker boats are known for delivering a big bang for the buck. Another aluminum builder, this company (owned by White River Marine Group), is America's No. 1 selling aluminum fishing boat brand. They offer a full lineup of deep-V, semi-V, and Jon boats from 16 feet up to 21 feet, five inches long. Tracker is another NMMA-certified boat and perennial recipient of CSI awards.
Photo credit: Tracker Boats
Best Small Family Boat Brands
Small is a relative term, but for many families, smaller boats are better. They're easier to store, easier to maintain, easier to launch and load, and easier to afford. If that sounds appealing to you, these brands will be of interest.
Sea-Doo
Sea-Doo has a line of personal watercraft that can handle up to three passengers and would certainly count as a family boat if your family fits. But what really stands out in the family boat market is their Switch lineup. While it ranges up to 21 feet, the 13-foot Compact model is just about the only jet-powered pontoon boat on the face of the planet that can accommodate up to five passengers. Note: this tidy little package packs 170 horses so tell everyone to hold on tight before you hit the throttle.
Photo credit: Sea Doo
Starcraft
There's a huge range in Starcraft's mixed aluminum and fiberglass boat lineup, including pontoons, deck boats, fishing boats, and utility boats. Although some get rather large most of their model lines start in the 16- or 17-foot range, and if that's still bigger than your tastes or your pocketbook can handle, the utility lineup also includes 12-, 13-, 14-, and 15-foot models. Whichever type will be the best family boat for you, there's going to be a Starcraft that will fit in your garage after a day on the water.
Photo credit: Starcraft Marine
Tahoe
Tahoe boats offer a lineup of 11 fiberglass runabout and deck boat models, ranging from 16 to 21 feet. They're all sold as boat-motor-trailer packages with a list of standard features that's uncommonly long for a budget boat. Take that little 16-footer, for example, which boasts a seven-inch touchscreen multifunction display at the helm, a 60-hp Mercury FourStroke on the transom, and single-axle trailer with LED lights and a fold-away tongue.
Photo credit: Tahoe
Best Family Lake Boat Brands
Just what makes a great brand of boat for the lake? Truth be told, there's no real difference between a "lake boat" and one you might use on a river or bay (though if you use a boat built for freshwater use in a briny bay, you'd certainly want to make sure it's built with corrosion-resistant pieces and parts). So, we're not going to call out any specific brands when it comes to choosing the best family lake boats. In fact, any of those we identify in any of these other categories you see here would fit the bill just fine.
Best Family Fishing Boat Brands
Fishing is among the most popular family activities enjoyed upon boats, and it's no wonder why—fishing is fun! While there are plenty of boats out there designed purely for hardcore angling and nothing but, from the family boat perspective, a few additional touches are in order. See our guide on family fishing boats.
Boston Whaler
Boston Whaler is one of the best-known boat brands on the face of the planet, and their place in this conversation is secure thanks to one simple fact: built with a fiberglass-foam-fiberglass sandwich, they're unsinkable. When it comes to trusting a boat with your family's safety an unsinkable boat simply can't be beat. Note that Boston Whaler also builds a number of express and walkaround boats, which would certainly fit into the category of best family boats with cabins.
Photo credit: Boston Whaler
Grady-White
Grady-White is known for building top-shelf fishing boats, and critically for our purposes, they're all also endowed with plenty of comfort features that will keep the entire family happy. They have a huge lineup of 18- to 45-foot center console, dual console, express, and walkaround boats which all feature lots of comfy seating, and when we set aside the 18-foot model, all the others also have a private enclosed head compartment. Other perks most of their models deliver include freshwater systems, stereos, integrated drink coolers, fishboxes, livewells, and USB ports. And that goes for their Coastal Explorer line, too, which certainly ranks among the best family bay boats around.
Photo credit: Grady-White
Ranger
Ranger Boats lands a spot in this category thanks to their Reata series of "Fish and Play" boats. Ranging from 18 to 21 feet, these are Fish-and-Ski boats which are equally at home chasing bass or pulling wakeboards. They come equipped with all the angling goodies (like livewells and rod boxes) as well as everything you need for watersports (including a ski-tow bit and reboarding ladder).
Photo credit: Ranger Boats
Best Family Center Console Boat Brands
This is another category we'll see some overlap in, because the Bayliners and Grady-Whites we've already mentioned could easily fit the bill for this category, too. In addition to those, however, there are some other contenders to consider when it comes to finding the best center console boats for families.
Cobia
Cobia Boats have long been known for building a rugged boat that delivers a great bang for the buck, and their lineup includes seven center consoles from 22 to 35 feet. In addition to a full complement of fishing features, they offer the perks that make a family happy, like an enclosed head compartment, seating in both the stern and the bow, and removable cocktail tables. But what separates them from the crowd is their VARIS construction. Cobia boats have the stringers, hull, and transom all infused with resin at the same time, so they create a single solid structure.
Photo credit: Cobia Boats
Sportsman
The lineup of Sportsman center console boats is huge, with 16 models spanning 22 feet, four inches, to 35 feet, two inches. They're fishing boats first and foremost but all are also outfitted for family comfort, and unlike many other brands, Sportsman thoroughly equips all of these boats with a long list of standard features that many other builders consider cost-adding options. Goodies like digital switching and integrated electronics with a touchscreen interface, bow filler cushions, and freshwater systems with washdowns are present and accounted for. On the appropriate models, you'll even discover standard-issue Seakeeper Ride systems.
Photo credit: Sportsman
Best Family Deck Boat Brands
This is another category for which we need to look back at some others. Already, we've discussed Bayliner, Lowe, Tahoe, and Starcraft—all of which have extensive lineups of deck boats among their offerings. That said, we do need to call out one more:
Sea Ray
With a brand recognition that's utterly epic in the world of boats, Sea Ray offers the SDX series of deck boats ranging from 25 to 29 feet. You probably have already heard about Sea Ray's build quality and excellent design. But another nice thing about their deck boat range is that no matter which specific size or model you look at, it's offered in both outboard and stern-drive versions.
Photo credit: Sea Ray
Best Family Ski Boat Brands
Ski boats are a unique genre, not to be confused with general watersports or wake boats. (See The Best Wake Boat Brands for the Money, for more on wake boats in specific). While many are designed for short jaunts and may not have many amenities for the family, there are some true standouts in the category.
Mastercraft
The Mastercraft ProStar is built for serious water skiers, but it still has some touches that keep the family in mind. With incredibly flat wakes at all speeds the kids will have a shorter learning curve, and comfy aft-facing seating that has triple-density foam capped off with top-end vinyl.
Photo credit: MasterCraft
Nautique
There are two ski boats in Nautique's lineup, and the Ski Nautique is billed as the lightest dedicated waterski boat on the market. More importantly for the family, the rear seat can be configured in multiple ways to match your liking, side steps make entry and egress easier, and the helm includes a high-tech touchscreen dash with a rotary control for scrolling through pre-sets.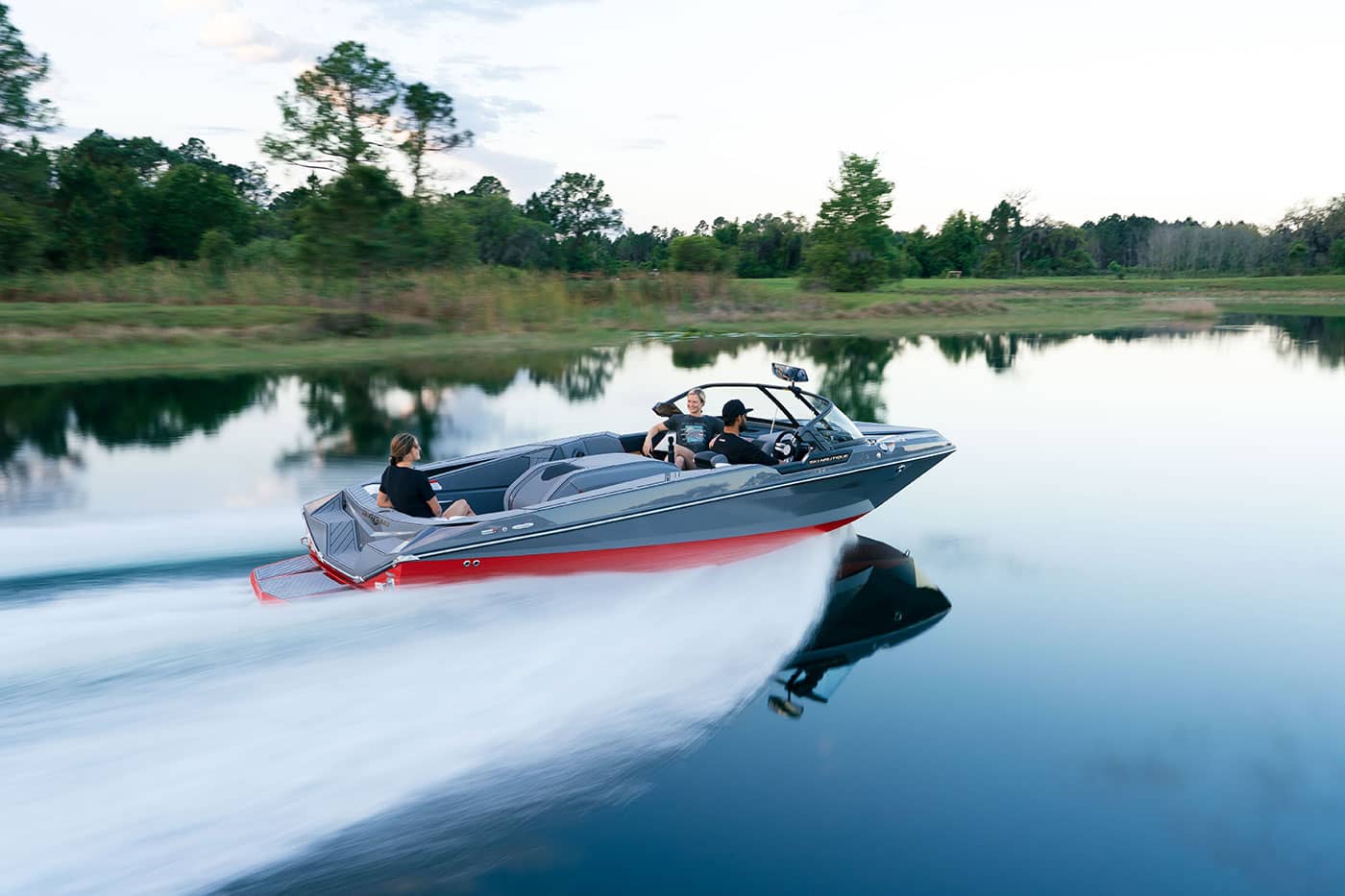 Photo credit: Nautique
So: have you found the best family boat brand for your needs? Maybe, and maybe not. Every boater and every family has their own priorities and needs, and different boat brands will be better for some families than others. That said, we can tell you one thing for sure: if you haven't found the ideal boat just yet you need to keep looking, because a boating family is a happy family.
---
---
Related Articles and Guides