Choosing to live on a boat is a big and exciting step. Yet leaving behind the comforts of bricks and mortar (and the space they offer) for a more unorthodox lifestyle is something that more and more people are choosing to do. With the increased cost of living, especially in big cities, as well as the trappings of daily life, there is an increasing number of people who are opting to simplify their lives and move onto the water. We have looked at the pros and cons of living on a boat in a previous article, but here we take a look at the different styles of liveaboard boats and the best boats to live on year round.
So what are the options when it comes to living on a boat? From static houseboats to easily movable sailboats and a whole lot in between, the options are getting more creative, designer-led and spacious.
Ultimately, you can live on almost any boat. You might find it cramped, but it's doable. Much of the decision will come from how you want to live, whether you're looking to stay on a residential mooring in a water community close to your place of work and social life, or sail the seven seas (or the option to do both).
Types of Liveaboard Boat
Sailboats
The classic sailboat comes in all manner of shapes and sizes. They are the essence of ocean-going freedom, economical both in their purchase price and travel costs (wind power is free!), and ready for adventure. Finding a berth is usually easy and affordable, or they can be easily moored on anchor. On the downside, sailboats lack space, and many smaller models won't have showers or hot water. You'll need to consider size carefully, both for operational reasons – can you sail it single-handedly if needed? – but also keep in mind that running costs rise with size.
Pros:
Economical both to buy and maintain
Finding a berth is easier than for larger houseboats
It can be moved easily or sailed around the world
Cons:
Space is limited for both people and equipment
They can lack the mod cons of larger houseboats
The Best Sailboats to Live on
Whether you're looking for a new or used sailboat, there are thousands to choose from. Picking the best ones is impossible, but we are particularly fond of the following:
Catalina 38
The much-loved Catalina 38 sloop was in production from 1978 to 1999 and so there are many of these models on the used boat market. They make for a comfortable boat for a couple to live on, with plenty of well thought-out features from electrical outlets to a compact but well-equipped galley. Space will always be tight, but for a cozy cruiser bound for adventure the Catalina 38 is a great choice.
Hunter 33:
Another classic sailboat that has its origins in the 1970's is the Hunter 33, an aft-cockpit sloop, which was in production until recently, showing its immense popularity. The 33 foot sailing yacht offers lots of interior space, with a full dinette, head and shower, and master cabin, and all of it with standing room height. The galley is packed with storage lockers, and the entire décor is contemporary and comfortable creating the feel of a real home.
Photo credit: Marlow-Hunter
Peterson 44:
Slightly larger than the other two n the list is the Peterson 44, a double-spread cutter, which offers plenty of living space whether you're cruising or predominantly residential. Ideal for a small family, it is both affordable on the used market and packed with home comforts such as a shower, galley with oven, fridge and freezer, three cabins and a practical center cockpit.
Catamarans
If you're looking for a full suite of amenities such as a house-sized kitchen and bathroom, plus oodles of extra living space then a multi-hull – catamaran or trimaran - makes for an excellent ocean-going liveaboard. The bridge between the hulls creates a light and airy above-water living space, with the bedrooms tucked into the hulls. They are also more stable than monohull boats, so for those with a delicate stomach in a high sea, these are becoming increasingly popular. Multi-hull boats tend to cost more to purchase, and because of their width will also incur higher berthing costs, so this is something to take into account.
Pros:
Lots of space compared to monohull yachts
Full sized kitchen and bathroom
Offer a stable ride
Cons:
Cost more than monohull yachts to buy
More difficult and costly to find berths as they are much wider
The Best Catamarans to Live on
Catamaran sales, both of motor and sail models, are booming, especially with those looking to live on them full time. The extra space afforded by the double width beam is unparalleled in a monohull, and they are renowned for their stability. Here we take a look at some of our favorite models:
Privilege 435:
Launched in 1999, the Alliaura Marine Privilege 435 is one of the most comfortable and spacious cats out there for its size. No expense has been spared when it comes to the finishings, and it has a really elegant and luxurious feel. Many of the ones you find on the used market were built more recently however, and so they come with the latest technology, navigational and safety equipment. With four bedrooms thanks to the iconic central 'hull' (which doesn't tough the water) creating more space, it truly is a home on water, but its sturdy construction allows for long-range near coastal cruising too.
Lagoon 46:
This new model from catamaran specialists Lagoon sits in the middle of their range of 40 to 55 feet luxury catamarans offering the ultimate in comfort and space but still compact enough for easy handling and mooring. Based on the groundbreaking 50, the Lagoon 46 manages to pack all the amenities in (we're talking a huge, light-filled galley and dining room with wrap around windows, three cabins with a plush master suite in the starboard hull, and a luxurious amount of deck space).
Photo credit: Lagoon Catamarans
It's hard to choose from Fountain Pajot's huge range of sailing and motor catamarans as they are some of the best and most luxurious on the market both in terms of performance and liveability.
Trawlers
Trawlers are a unique type of powerboat designed for long distance cruising and perfectly suited to living on full time. While their origins can be traced back to commercial fishing boats – and there are plenty of these full- displacement, ballasted hull models still in operation - modern trawlers are a very different animal. Wide hulls, less draft, more below-deck headroom and plenty of space for mod cons make these a hugely popular choice. You'll find full-sized kitchens, showers, and multi-level living space, especially on the larger models. In fact, they don't even need to be that much longer – a 35-foot trawler is much roomier than a 35-foot sailboat, for example.
Pros:
Oodles of space for the length
Ultra-luxurious designs
Compact for easy berthing
Cons:
The initial purchase costs are high
More costly to run than a sailboat
The Best Trawler Yachts to Live on
New and converted trawlers are cropping up everywhere, and the modern designs are a far cry from the fishing vessels they once were. Décor is often penthouse chic, bringing cosmopolitan living to the open ocean. Here are some of our particular favorites:
Grand Banks 60:
Grand Banks have taken the humble trawler and transformed it into a long-range cruiser with the luxury of a small superyacht and the spaciousness of a houseboat. The GB 60 is the epitome of what they've created, with an impressive cruise speed of 22 knots and a range of over 2000 nautical miles. Combine that with a luxurious, fully customizable interior, oodles of high tech, and their signature deep V hull for a smoother, faster ride and it's the winning combination.
Photo credit: Grand Banks
Whether you want to cruise to the far flung corners of the world or live comfortably at anchor, Beneteau's range of Swift Trawlers offer their signature elegance and power. Imagine a plush central living space and wheelhouse with panoramic views, huge amounts of storage space, stylish cabins and a powerful, reliable, and efficient engine.
Ranger Tugs R-43:
Ranger Tugs specialize in high quality vessels which are more affordable than most trawlers on the market. While you can pick up a brand new R-23 for $115,000, it might not be quite big enough to live on. Enter the R-43. Built by hand in the US it has a beautiful, light-filled interior perfect for families or friends to spend time together, as well as two cozy cabins each with en-suite shower rooms. You'll also find a chef's galley, laundry room, wrap-around decks and a suite of tech including twin Volvo IPS drives, joystick driving and docking, and a state of the art Garmin 22" navigation suite.
Houseboats
Moving on to a life on the water doesn't have to be about cruising the great oceans. The joy of waking up to the sounds of birds chirping and the gentle slap of water on the hull, or of connecting to nature and living a simple life is just some of the appeal of living on a boat year round. Swapping sea-worthiness for space is a huge trade-off, and there are many different types of static or houseboats which offer a more residential feel.
Non-powered houseboats are a true home-on-the-water. A steel floating pontoon supports a mobile home type structure on the top, providing large amounts of living space, big windows, and all the amenities and home comforts you want. They can be towed from place to place, but are otherwise static in a residential community along rivers, lakes, sheltered bays and inland waterways. With municipal utilities, cable television and broadband internet connections, they give you the best of both worlds.
Powered houseboats are self-propelled residential vessels which come in many guises and make for a top choice of liveaboard. While some will be limited in the distance they can travel and be more reminiscent of the static houseboats, others have plenty of cruising power and are ready for coastal adventures. With a squarer silhouette, powered houseboats can accommodate an impressive amount of living space for their length.
Pros:
Attractive pricing compared to ocean-going yachts of the same size
Huge amount of interior space with all the comforts of a home
Creative interior design styles
Cons:
Extremely popular so finding a residential berth can be difficult
Not designed for long-range cruising
Some can only be towed and aren't powered
The Best Houseboats to Live on
Architects have unleashed their imaginations with a new range of luxurious, creative and innovative designs for static houseboats and powered houseboats, which push the boundaries of water living with floor-to-ceiling windows, roaring fireplaces and rooftop hot tubs. Here are some of our top picks:
American Houseboat 'The Zion':
Resembling a true house floating on water, these are the quintessential all-American houseboats. Measuring 14 x 14 feet, the two bedroom boats have an extra loft area and can accommodate up to eight guests. With big windows to let in the natural light, a full kitchen, and a huge private deck off the master bedroom you get home comforts with all the joys of being on the water.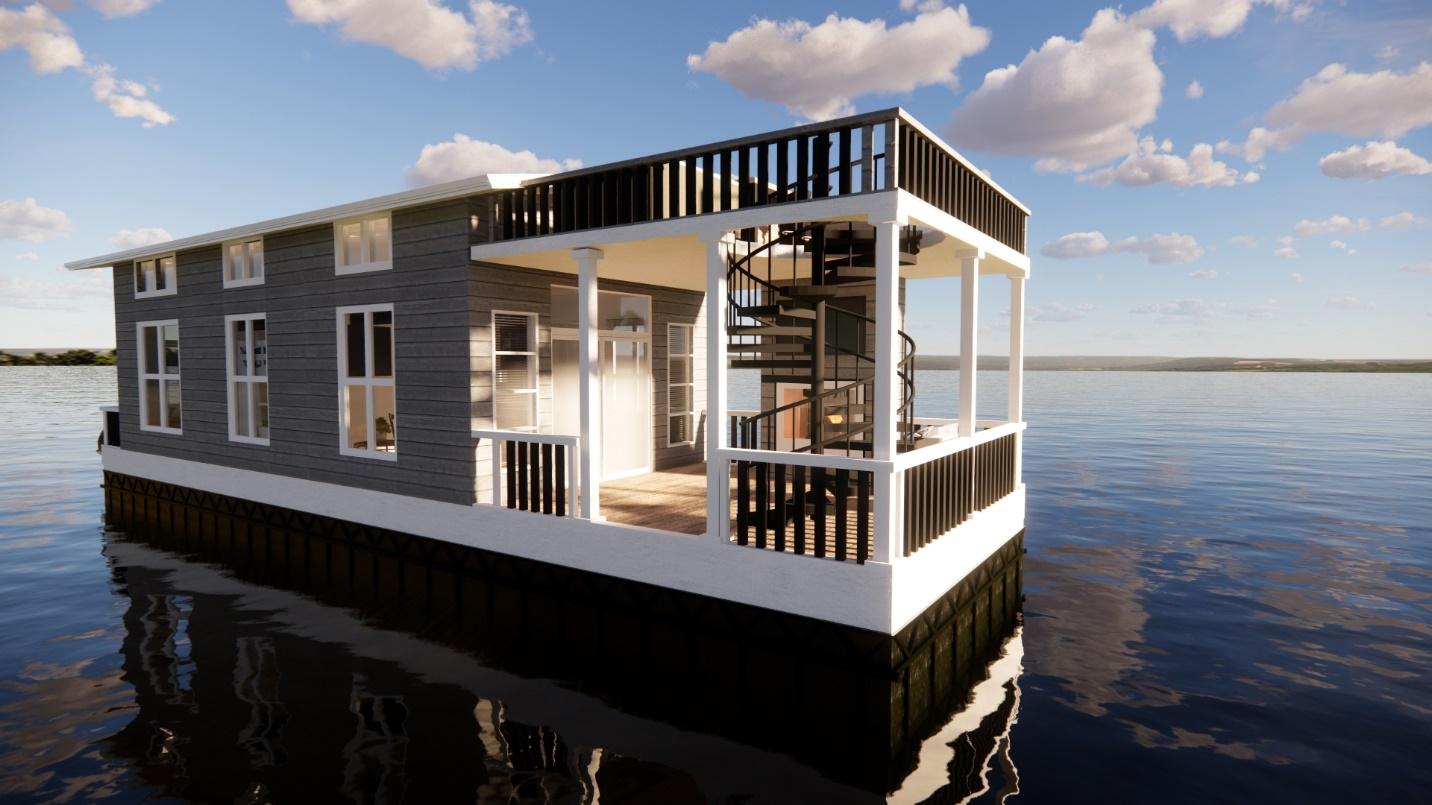 Photo credit: The American Houseboat
Gibson Cabin Yacht 5000:
Gibson Boats are a major player in the houseboat industry and their Gibson Cabin Yacht 5000 is one of our favorites. It combines affordability (and there are several to be found on the used market) with spaciousness and reliability. You'll find two or three double bedrooms, carpeting throughout, high quality electrical appliances including air conditioning and heating, and two full bathrooms including a tub.
Bravada Yachts Atlas V-Series:
Calling the Atlas V-Series powered houseboats seems somehow wrong. They are much more than your average houseboat, a sleek and versatile ocean-going vessel designed for living on in ultimate luxury. With a futuristic silhouette, vast windows, two floors and every home comfort you can imagine (including a fire pit and rear waterslide), they have taken living on the water to whole new levels.


Photo credit: Bravada Yachts
---
---
Related Articles and Guides