Sleeping on a boat overnight can be a fun and relaxing adventure that every boater should have a chance to experience. As the light fades, everything on and around the water changes to create a new atmosphere you can truly experience only when you're afloat. In case you can't tell, we are total fans of the magical moment of falling asleep under the stars as we're rocked to sleep by the gentle motion of the water.
In full disclosure, if you're a first-timer, it will often help to know what to expect and to be prepared because, yes, it's a different and changeable environment. These are some questions that we commonly hear, the answers to which will provide you with insights in advance for enjoying going to sleep on a boat overnight.
Where Can You Sleep on a Boat Overnight?
The short answer to this question is, almost anywhere. But you will sleep better in some places than others.
The most important thing to think about when sleeping on a boat overnight is where you park or anchor your boat while you and your companions enjoy a good night's sleep. The best places for anchoring the boat for the night will be quiet, protected areas with calm waters. This means places without a lot of night traffic, places that are sheltered from high winds, and places that are out of strong currents.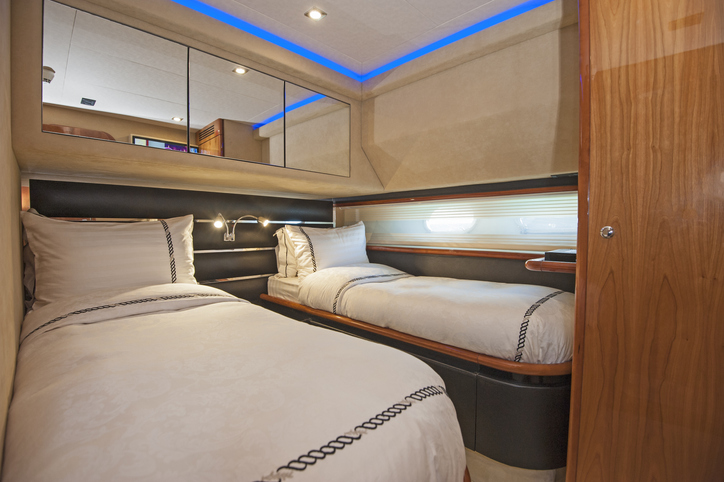 Can you anchor overnight, away from the shore?
In many areas, there are plenty of places available that are good for sleeping on a boat while attached only to an anchor. To learn where they are, use maps and charts to do your research and find the best locations in the areas to which you are navigating. Make sure you arrive at the location while there's still plenty of light left to take a good look around and spot any potential hazards, like rocks and shallow reefs, before they can cause trouble.
When sleeping on a boat, you want to ensure that your vessel stays in place during the night. When not not docked in a marina (see below), this means having a good anchor to hold the boat in place. By using charts and other available resources, you can determine the type of bottom (mud, rock, sand, etc.) where your anchor will be set and what type of anchor is best for that type of bottom. The anchor must not only be long enough to reach the bottom but also have enough length (also called scope) to set into the mud firmly.
Can you sleep on a boat in a marina?
A marina is one of the most popular locations for sleeping on a boat overnight because of the amenities and facilities available to boaters. However, marinas can have varying rules about staying on a boat overnight. In some marinas, sleeping on a boat is prohibited while others have a limit to how many days a boat can remain at anchor in the marina. Most marinas accommodate transient boaters, but check the rules ahead of time for the marina you are planning to visit to avoid any surprises.
When staying in a marina overnight and sleeping on a boat, you will want to choose a calm area with minimal distractions to upset your boat. Many marinas recommend staying in a no-wake area so that you won't have to worry about wakes or running boats during the night. The sound of the linkages between floating docks often are magnified at night, and we recommend bringing along some earplugs just in case.
An important safety note when staying in a marina is that there may be restrictions on fishing or swimming in the area due to the electricity running to the docks.
For more on marinas, read "How to Choose the Right Marina."
Can you sleep on a boat on the ocean?
Planning to spend the night on a yacht or other type of boat in the ocean is different than planning to sleep on a boat in a cove or at a marina. The biggest difference is that when you get tired or the sun goes down, you cannot drop anchor and go to sleep like you can in shallow water. The water is way too deep, and since the boat remains constantly in motion, you and your crew need to take turns staying on watch throughout the night to steer the boat and keep a lookout for other vessels or bad weather.
The traditional way to do this is to "stand watches," typically for three or four hours at a time with two or more people staying awake while others sleep. It's tiring staying awake from, say, midnight until 3am, and it may be hard to sleep on the first night as you are sailing through waves or running under engine power. After a day or two, however, everyone learns to catch up on their sleep when they are off watch during the day.
Another difference when you sleep in a boat on the ocean is that the motion of the boat in windy weather can be much more dramatic than on other bodies of water, making it harder to sleep comfortably. To avoid being tipped out of the berth during boating in rough water, set up a lee cloth or lee board for the berth before you depart on the trip so as the boat rolls, you don't land on the cabin floor.
One tip for making a longer voyage on the ocean is to work out in advance if you are susceptible to motion sickness, and if so, to obtain from your doctor a scopalamine patch or other seasickness remedy in advance.
Can you sleep on a boat on a lake?
As with marinas and anchorages, whether or not you can sleep on a boat on a lake depends on the location. Some lakes have designated areas where boaters can anchor for the night and sleep on their boats. These are often called boat camping areas. To be allowed in these designated areas, your boat must have proper sleeping accommodations for all the people aboard. It must also have a Coast Guard-approved, self-contained sanitary unit installed in a location with complete privacy for users.
Some lakes have registration and inspection requirements that must be met before you will be allowed to sleep on the boat. Lakes that are situated in state or national parks may also have rules about how the boat must be moored during hours when the park is not officially open and what distance from the shore is acceptable. State and federal anchorage rules require all boats to display an anchor light when moored for the night. Read more about: The Most Popular Types of Lake Boats.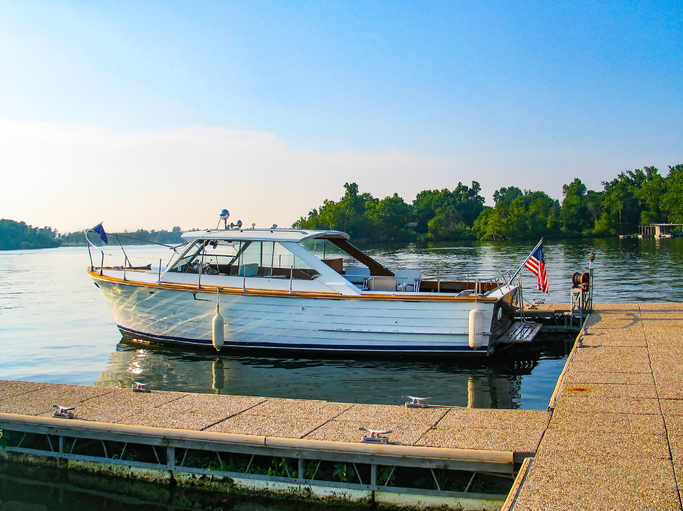 How to Sleep on a Boat
To get a good night's sleep on a boat, you need to feel comfortable and safe. Having the proper supplies and following some simple tips about how to sleep on a boat can go a long way toward making the experience enjoyable. Here are some of the most important tips for making sleeping on a boat easy and restful.
1. Bring plenty of lights and batteries to illuminate different areas of the boat at night, including a bright LED headlamp for hands-free use.
2. Nights on the water can be very cool, so bring cool-weather clothes and warm pajamas, plus a sheet, blanket, or sleeping bag to help keep you comfortable at night.
3. As a group, establish an evening quiet time that all parties can agree to so those who want to go to sleep can do so uninterrupted.
4. If you have difficulty sleeping around noises or lights, bring a sleeping mask that can block out light and soft earplugs to block out sound.
5. Lights at night can attract insects, especially in warmer climates, so fit your boat for screens and mosquito netting, and don't hesitate to use bug spray to keep insects from bothering you while you are enjoying the evening and then falling to sleep.
More information:
---
---
Related Articles and Guides