There are a million and one bowriders for sale at any given time, mostly because small bowrider boats are some of the most popular recreational watercraft on the face of the planet. There are also many different sub-classes of this genre, since virtually any boat with a bow cockpit that has seating counts as a bowrider. But with so many choices it can be overwhelming to try and choose the best bowrider boats from among this vast crowd. Let's sort the wheat from the chaff and take a look at some of the best bowrider boat brands you're likely to come across as you try to find the perfect boat for you and your family.
What Are the Best Bowrider Boat Brands?
We want to point out right from the start that different bowriders and different bowrider boat brands will be "best" for different people. Varying factors like finances, deck layout, luxury level, and more all come into play, and different people will have different priorities. I may like watersports, for example, and place a lot of emphasis on performance and watersports gear like elevated tow-bits or wakeboard racks. You may be an angler and want a bowrider that also has fishing rod holders. So, what exactly constitutes "best" will vary from person to person.
That said, there are certainly a few prerequisites every boat should meet no matter who's doing the judging. Solid and safe construction and reliable performance, just to name a few. Here are some top picks in some different categories that could all arguably be called the best bowrider boats by meeting and exceeding just about anyone's standards.
Best Luxury Bowrider Boat Brands
Chris-Craft
The Chris-Craft brand has been around for far well over a century, and today's Chris-Craft builds two series of uber-luxurious bowriders called the Calypso and the Launch. Launch models range from 27 to 35 feet and feature extensive aft-facing sunpads and loungers in the stern, while the Calypso line runs from 24 to 32 feet, has forward-facing seating along the transom, and includes some integrated fishing and watersports accessories. In both cases, the fit and finish of the Chris-Craft bowriders is a stand-out feature. They're virtually flawless and truly a sight to behold.
Photo credit: Chris Craft Boats
Cobalt
If you appreciate a luxury bowrider that gleams like a gem, be sure to check out Cobalt boats. This builder has long been known for insanely good gel coat work matched up with a flawless fit and finish and luxury interiors. And nearly all of their 22-model lineup consists of bowriders with a mix of stern-drive and outboard configurations. Another thing that will set this builder apart, especially for boaters who enjoy watersports, is their inclusion of a dedicated wake surfing model line. Cobalt offers four bowriders that feature Forward Drive propulsion (a forward-facing stern drive that places the propeller far in front of the transom), wake towers with tow bits and board racks, and surf systems with ballast tanks that allow you to craft the ideal surfing wakes.
Sea Ray
Sea Ray has been one of the most popular builders of bowriders for decades, and while they made their reputation building small bowrider boats, today they're best known for their lineup of luxury bowrider boats. There are over two dozen models in the lineup ranging from 19 to 40 feet in length, and while many of the larger models have cabins and could arguably fall into the cruiser category, they also have bow cockpits with plenty of seating—so they all fit the definition of a bowrider, too. Many of their models are available with either outboard or stern drive power, and their SLX line of 26 to 40 feet bowriders is the model range that maximizes luxury over all other concerns.
Photo credit: Sea Ray
Best Affordable Bowrider Boat Brands
Stingray
Stingray has long been known for building comfortable but no-frills bowriders and deck boats (which are essentially bowriders with bows that maintain the full beam moving forward to increase interior volume. They currently offer nine models from 17 to 26 feet and come with a surprising number of standard features considering the pricing (portable MSDs, freshwater transom showers, and Bimini tops are all in the mix. While they may not be as flashy as some bowriders, Stingrays certainly offer fun days on the water.
Photo credit: Stingray Boats
Tahoe
As one of the White River Marine Group brands (which has seven major boatbuilders under its umbrella), Tahoe enjoys economy of scale that helps it keep pricing in check. They also offer some of the smallest bowrider models around, beginning with a 16-footer powered by a 60-hp outboard. And on top of that, Tahoe offers what they term "no haggle no hassle" advertised pricing, so unlike some brands, it's easy to figure out the bottom-line cost. Yet even their affordable bowrider boats enjoy a surprising amount of tech. Consider, for example, that the base-model T16 comes with a standard seven-inch touchscreen multifunction display, which communicates with the 60-hp Mercury FourStroke outboard on the transom.
Photo credit: Tahoe Boats
Lowe
Small aluminum boats tend to cost less than fiberglass boats, and Lowe takes full advantage of this with their Fish and Ski models. Though they're designed to serve as mixed-purpose fishing and watersports platforms, they have open bows with seating, so they still fit the bowrider mold. Their lineup consists of four models from 16 to 19 feet, and thanks to the light weight of aluminum hulls they can run with relatively small powerplants; the Fish & Ski 1625, for example, can be had with a mere 20 hp on the transom. Net result? That drives pricing down even more, making these some of the most affordable bowrider boats around.
Photo credit: Lowe Boats
Best Outboard Bowrider Boats Brands
Glastron
This builder has been producing runabouts for decades and has long focused on bowriders. In the past they were all stern-drive boats, but today they've incorporated outboard-powered models throughout their lineup and now offer eight outboard boats between 18 and 24 feet. These stand out from the crowd because builders who previously focused on stern-drives often leave the engine box in place on outboard models merely to speed the design and build process. In contrast, Glastron redesigned their bowrider boats with outboards to incorporate full wraparound cockpit seating. This expands the interior volume as compared to many stern-drive-derived bowriders.
Photo credit: Glastron
Grady-White
The Grady-White range of dual console bowriders goes from 21 to 33 feet, all powered by outboards, and they all also place an emphasis on fishing and family fun. The Grady-Whites are particularly well known for their seakeeping abilities, riding on a variable-degree deadrise hull form designed by the famed C. Raymond Hunt and Associates. These bowriders are also rigged with a number of unique comfort-inducing touches, like electrically actuated adjusting loungers, automatic extending sunshades, and in larger models, even air conditioning.
Photo credit: Grady-White
Pursuit
Another top manufacturer who used to offer stern-drive propulsion but today builds solely outboard bowriders is Pursuit. Their line of dual consoles ranges from 24 to 36 feet, and Pursuit is known for crafting topnotch boats with a healthy dose of luxury. They're also known for their fishing boats, and these dual console bowriders come fully equipped for angling with everything from livewells to integrated fish boxes.
Best Crossover Bowrider Boat Brands
Boston Whaler
Boston Whaler is best known for building center console fishing boats, so it may seem like an unusual brand to bring up when talking about the best bowrider boats. However, they have a line of dual consoles called the Vantage, which certainly meet the definition of a crossover bowrider boat. Anglers gravitate towards them since they have a full complement of fishing features, like rod holders and livewells, and family boaters love Boston Whalers since their unusual fiberglass-foam-fiberglass construction makes them unsinkable.
Edgewater
The Edgewater line of dual console crossover bowrider boats only consists of four models (from 23 to 28 feet) but these are known for being very well-built, high-quality boats. Edgewater boats are fishing-focused, and these models have goodies like livewells, rod holders, and fishboxes, so they can serve as excellent angling machines one day and family bowriders the next.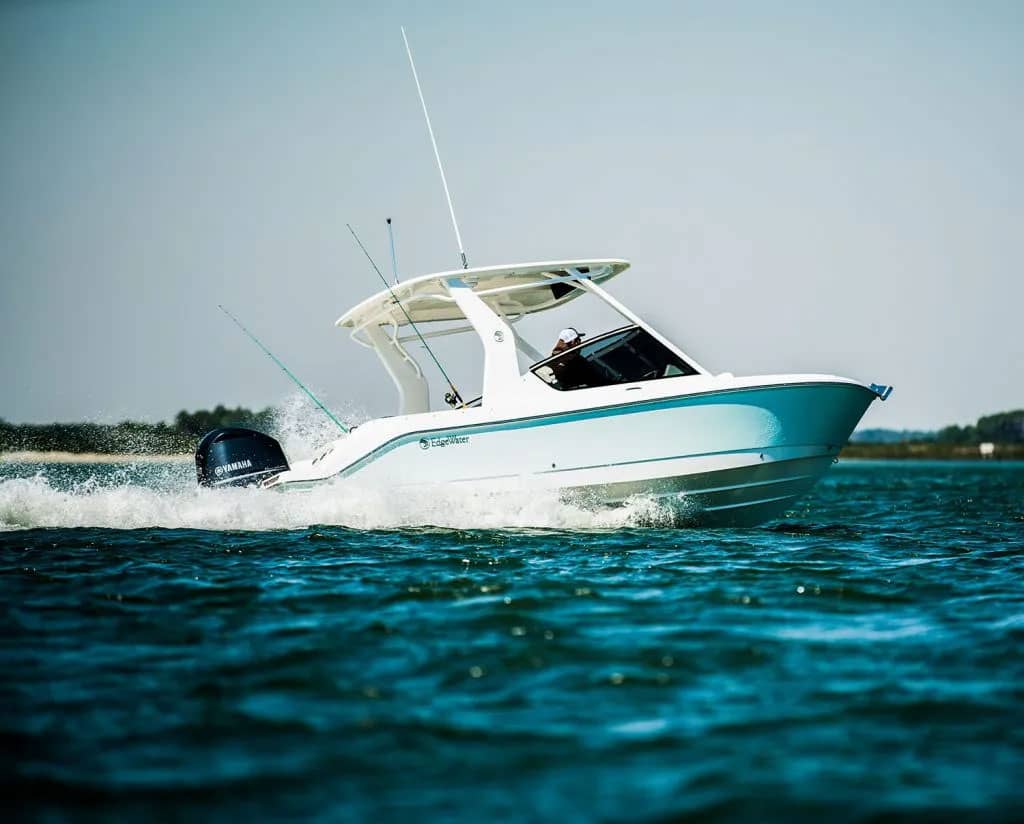 Photo credit: Edgewater
Yamaha
When it comes to finding bowriders that blur the lines between different types of boats, few multipurpose marine machines will stack up to Yamaha boats. These are the only boats in this roundup to be powered by jet-drives, which deliver exciting performance and handling plus eliminate worries about spinning propellers and damaging groundings. The range of 19 -to 27-footers includes models dedicated to wake sports as well as standard-issue runabouts.
Did you find the best bowrider boat brand for you and your family in this roundup? We certainly hope so, but maybe not. You may have some specific priorities or needs to be met, and perhaps you have yet to see one that fits the bill. If that's the case, we have one final word of advice: keep searching. No matter what your favorite waterborne activity is and no matter what your specific needs may be, that perfect bowrider for you is out there somewhere.
---
---
Related Articles and Guides