There is no way you would want to charter a yacht in Cuba...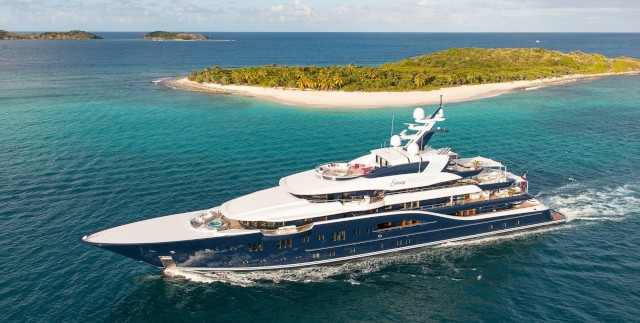 Cuba isn't known for its beaches, is it?
Cuba is surrounded by luxurious beaches and warm Caribbean waters. With 4,000 islands and coral reefs to explore around the mainland, many of which are part of Archipelagos, Cuba is the ideal yachting holiday destination. With so much coastline and so many islands to explore, there are beaches to suit everyone's idea of luxury. Imagine white sands dotted with palm trees, the sun glittering on clear turquoise water, water that merges seamlessly into the blue horizon. A yacht provides the ability to discover unexplored paradise, beaches surrounded by jungle offer a private space for complete relaxation.
On the island of Cayo Coco sits a 3km stretch of heaven, Playa Los Flamencos. Caya Coco is an island located off central Cuba, she draws many holidaymakers to her shores. The most popular beaches lie on the north coast, dotted with all-inclusive hotels and tourists. The island is known for its white-sand beaches, lagoons and coral reefs. Caya Coco is also abundant in animals and nature, boasting a native colony of pink flamingos, the beach is therefore aptly named. Playa Los Flamencos offers visitors a gorgeous stretch of white sands and transparent, sparkling waters, prepare to relax in utter tranquillity and privacy.
Okay, but what makes Cuba different to other Caribbean holiday spots? What exactly can I see there?
Cuba has a rich history and culture, incorporating an interesting and unique blend of Latin American and Spanish cultures. Listed below are considered some of the most interesting historical sights in Cuba, these are both beautiful and educational.
Old Havana
Habana Vieja or Old Havana, boasts a stunningly well-preserved window into Cuban history. Imagine cobbled streets, pastel coloured buildings,and streets dotted with Baroque and Neoclassical architecture. The Plaza de la Catedral is one of the main five squares in Old Havana. The square is home to the Catedral de San Cristobal. The church was built in the Baroque architectural style, and boasts several Tuscan elements, the building is considered one of the best examples of Baroque architecture in Cuba. Interestingly, the building is mostly made from coral cut from the Gulf of Mexico's ocean floor. Secondly, Old Havana's Museum of the Revolution depicts the story of the 1959 Cuban Revolution, including eye-opening exhibits like blood-stained uniforms. Furthermore, the infamous restaurant of Bodeguita del Medio is a must-visit. They state that 'since 1997, La Bodeguita del Medio has been a friendly destination in the heart of Palo Alto, a refuge for locals, travellers, dignitaries, and dreamers.' Even Ernest Hemingway was a frequent customer, writing he drinks his 'mojito in La Bodeguita, My daiquiri in El Floridita.' Another notable place to visit is the sixteenth century military fortress of Castillo de la Real Fuerza. The fortress is one of the oldest European defensive structures in the Americas, it was the first built to guard the city, and is considered a 'marvel of engineering'. Finally, visit the Plaza Vieja for a vibrant nightlife and stunning traditional architecture.
Trinidad
Trinidad is a beautifully unique Spanish colonial settlement, built in the era of wealth that the sugar and slavery trade brought to Cuba in the 19th century. The settlement was declared a World Heritage Site by Unesco in 1988, making Trinidad one of Cuba's most popular destinations to visit. It is therefore no wonder that busloads of tourists descend on Trinidad daily. Nevertheless, there is a relaxed atmosphere amongst the cobblestone streets and beautifully colourful buildings. The town truly comes alive at night. Consider a visit to Disco Ayala, a club inside a cave. Here they have nightly shows, with fire dancers and acrobats. With five dance floors and three bars, there is plenty of space to dance and enjoy the club.
Trinidad also boasts a number of natural attractions. A mere twelve kilometers south lies one of Cuba's most popular and attractive beaches, Playa Ancon. Playa Ancon has a well equipped marina, and offers the perfect spot to explore the nearby coral reefs. On the other hand, 18km to the north, lies the Escambray Mountains, in which you can hike, relax, horseback riding, lunch, swim in natural ponds and climb waterfalls.
Comandancia de la Plata
To truly understand Cuba's rich history, a trip to Comandancia de la Plata is essential. In the midst of jungle and thick cloud, and nestled in country's highest mountain rage Sierra Maestra, lies this pioneering camp. The camp was established by Fidel Castro in 1958 after a year on the run in the Sierra Maestra. The camp is well camouflaged and remote, the jungle back then was impenetrable, and this meant this rebel HQ was hidden by vegetation. It served its purpose well; government soldiers never located it. The struggles these individuals went through in the name of the Cuban revolution was tenacious to say the least. Therefore, a trek to Comandancia de la Plata is important to truly experience Cuba's history.
Today the camp looks very similar to how it was left in the 1950's. There are 16 small wooden buildings to look around. Near the entrance of the complex there is a small museum, a radio-communications building, and a hospital.
I'm sold. Where do I charter a yacht in Cuba?
There are many yacht charter companies located in Cuba, below are a selection of the best few.
Dream Yacht Charter - sales@dreamyachtcharter.co.uk
Cuba Yacht Arrangement - Ann@Cuba-Yacht.com
Windward Islands
---
---
Related Articles and Guides