The RYA Dinghy Show presented by Suzuki, in association with Yachts and Yachting and Gill, is the only show in the world dedicated to dinghy sailing and the perfect place to kick-start your season.
Taking place at Alexandra Palace, London, over the weekend of 03-04 March 2018, this year's theme is #dinghysailingforlife celebrating a lifetime sport for all.
Whether you want to shop for the latest kit, pick up some tips from our expert coaches or inspire your family to get on the water the show has something for everyone.
Introducing new hosts
The 2018 Show will see brand new hosts; Olympic gold and silver medalist Saskia Clark and Olympic sailor and sports presenter Stevie Morrison.
Saskia said: "I'm really excited to be involved in the RYA Dinghy Show alongside Stevie - I think each year, for all dinghy sailors it's a real highlight. As well as being able to pick up everything you need to get on the water, it's also a fantastic opportunity to catch up with all your sailing friends just before the start of the season".
Saskia and Stevie will be joining forces to host our brand new line up of expert speakers on the Suzuki Main stage and the Knowledge Zone throughout the weekend. Here are some of the highlights…
Suzuki Main Stage

If adventure cruising is your thing then Leading Seaman Phil Slade (Royal Navy) and Mark Belamarich MBE (Ministry of Defence) will inspire you to start planning your next adventure. The pair achieved a world record for the 'Longest Distance Sailed in a Double Handed Dinghy' in 2016 by sailing 309.25 nautical miles from Plymouth to Portsmouth via France in their Boson 'sixteen'.

And they didn't stop there! Hear what happened next at 11:15 on the Suzuki Main Stage both days.

Don't miss double Olympic silver medallist and Volvo Ocean Race winning Skipper Ian Walker, the RYA's new Director of Racing with his exclusive talk, 'My Life in Sailing'. From competing in the Sydney Olympic Games to sailing with his family and conquering the toughest ocean yacht race, Ian will share his sailing story on the Suzuki Main Stage at 13:45 Saturday and Sunday.

Sports nutritionist Nigel Mitchell who has worked with Team Sky and the British Sailing Team will explain how nutrition can enhance your performance on the water (14:30, Suzuki Main Stage, Saturday and Sunday). He'll be joined by Henrietta Dutton-Williamson, chef to the British Sailing Team who will be demonstrating live how to make healthy energy snacks which will help to keep you sailing all day.
The Knowledge Zone

Throughout the show, there's a huge range of advice available to help you to improve your sailing whatever your experience.

Over in the interactive Knowledge Zone, Paralympic gold medalist, Helena Lucas will be talking about how to get the perfect start (11:00 both days) whilst Rooster's Steve Cockerill will be sharing his top tips on steering to trim to help you sail faster on the race course (14:00 both days)
Introducing brand new stages
As well as a brand new line up of speakers there will also be two brand new stages.
Woman's sailing is thriving in the UK like never before and for the first time at the show, there's an area dedicated to solely to this. The 'Woman's Sailing Hub' will showcase inspirational female sailors, the latest kit, Q & A sessions and demonstrations.
Also new for 2018 is the 'Class Associations Stage' located in the Great Hall where you can find out everything you need know about your favorite class including what events are coming up in the season ahead and how to get involved.
Celebrating 100 years of Ian Proctor
Most dinghy sailors will have sailed a boat designed or influenced by Ian Proctor. Born in 1918, the RYA Dinghy Show will be celebrating the centenary and legacy of this legendary innovator, writer, designer and sailor.
On display in the West Corridor will be a historical exhibition where you can see his earliest designs including the Gull, Minisail, Osprey and the Wayfarer. Sailing historian David Henshall will be taking us back in time with his talk 'A life of an innovator-the Ian Proctor Centenary' which will be on the Suzuki Main Stage at 12:45 on both days of the show.
Get interactive
Once again the show is full of free activities to inspire the whole family! Experience sailing on dry land by jumping on one of the simulators or fly across the water with our 360o virtual reality sailing experience.
For something a bit different swap the tiller for the throttle and have a go on the Honda RYA Youth RIB Championship simulator. See how fast you can make it around the challenging course and the fastest driver of each day will win a prize!
Or hang out on the trapeze rig and get some top tips to improve your skills from the experts.
You can also rub shoulders with members of the British Sailing Team and other sailing heroes in the new 'Sailors Corner'. Chill out in the bean bag seats for Q&A sessions, take on the knot tying challenges or see if you're fast enough to beat the sailors times on the Wattbike, and so much more.
Don't forget that younger visitors of the show can also whizz around the show collecting stickers and clues in the RYA Dinghy Show Treasure Hunt!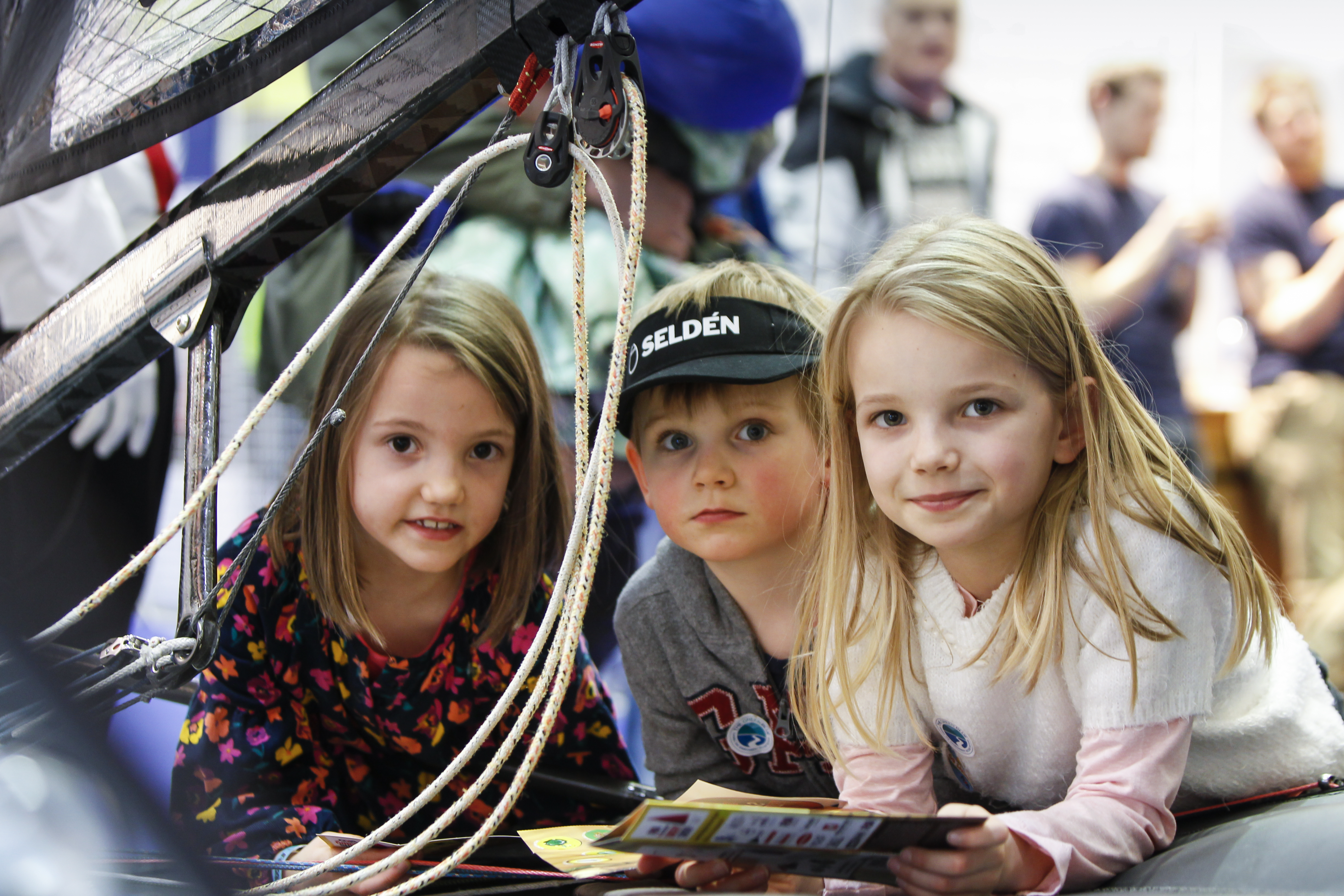 Beat the queues and get your tickets
So what are you waiting for? Advance tickets are available at a special discount rate of £10.00 for RYA members and £12.50 for non-members. RYA affiliated clubs can also take advantage of a special ticket price of £10 when booking six tickets or more. Don't forget two children go free with each paying adult as well.
Anyone buying a ticket in advance will be entered into a prize draw for the chance to win a Suzuki powered safety boat for their club.
To buy your tickets, visit www.dinghyshow.org.uk/go/dstickets or call the ticket hotline on 0844 858 9069.
For all the latest show news and information, visit www.dinghyshow.org.uk or follow us on Facebook www.facebook.com/ryadinghyshow or on twitter @dinghyshow
---
---
Related Articles and Guides